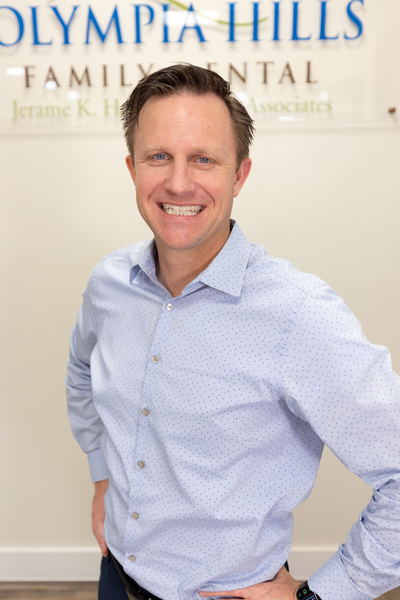 Dr. Jerame Hafen | DDS
Dr. Jerame K. Hafen is originally from Utah. Raised in a family where both parents work in the dental field, Dr. Hafen knew early on that he wanted to become a dentist. He received his bachelor's degree in biology from Brigham Young University and his doctorate from New York University College of Dentistry in 2009. While at NYU, Dr. Hafen received awards for his outstanding clinical and patient relationship skills. Dr. Hafen specializes in dental implants and personally implemented the dental implant program at Olympia Hills. Known for his dental expertise, compassion, and attention to detail, Dr. Hafen will take the time to welcome you to his office and give you the personalized attention you deserve. His bright smile and easy-going personality will put you at ease. Dr. Hafen will listen to your concerns and provide you with the dental care you need to improve your quality of life.
Dr. Hafen married his childhood sweetheart in 2003 and they are proud to now call the great state of Texas home. They along with their three children love living in the San Antonio area where they are active in their community and church. Dr. Hafen also enjoys cycling, soccer, and spending quality time with his family.
He is currently accepting new patients and is excited to welcome you to our dental home where you are considered family.
---
Dr. Christina Gonzalez | DDS
Dr. Christina Gonzalez joined the Olympia Hills Family Dental team in 2015. She earned her doctorate from the University of Texas Health and Science Center in San Antonio. Dr. Gonzalez is a Preferred Invisalign Provider and is sought after for her beautiful cosmetic dentistry. Dr. Gonzalez has extensive training in Sleep Breathing Disorders and is committed to helping our patients get a better night's sleep. "It is so rewarding to have a patient tell me that I have helped them achieve the best sleep of their lives." A native of San Antonio, Dr. Gonzalez is fluent in English and Spanish. Dr. Gonzalez enjoys spending time exploring the great outdoors with her family. Both of Dr. Gonzalez's parents are from Puerto Rico and she enjoys visiting family on the island.
Dr. Gonzalez is happily accepting new patients and is looking forward to welcoming you to our practice. If you are suffering from poor-quality sleep, schedule a free consultation with Dr. Gonzalez today to see if you are a candidate for dental sleep solutions.
---
Dr. Erin Greene | DDS
Dr. Greene graduated from dental school at the University of Texas Health Science Center San Antonio in 2011 before going on to receive her certification in General Practice Residency at the University of Utah. Among her many prestigious accomplishments is Dr. Greene's work with new graduates in an Advanced Education in General Dentistry residency, where she has held the title of Program Director for 5 years. Developing new graduates into excellent practitioners was extremely rewarding for her.
Dr. Greene went to dental school in San Antonio, and has a son named Dax. Dr. Greene and her family enjoy being active and playing sports.
Dr. Greene is accepting new patients and enjoys providing our patients with exceptional dental care!
---